Hero Give Back Program
Recognizing and Rewarding our Community Heroes
Hero Spotlight and Rewards
Florida Prime Realty is a proud supporter of those who serve, protect, and care for our country and community.  Our team of realtors is honored to extend our real estate services through our Hero Spotlight and Rewards Program. This program gives back to the ordinary people who sacrifice so much with their selfless and extraordinary actions to help others. From the soldiers who risk their lives to defend our Constitutional principals as well as the basic human rights of others to the police who risk their safety to protect and serve our community, from the first responders who rush into a burning building or wildfire from which others would flee, to the EMS, nurses and teachers who sacrifice so much time, energy and intellect to make a beneficial difference in the lives of others. Indeed, our community, in fact, our country is made all the greater by the commitment to others so amazingly expressed by individuals such as this.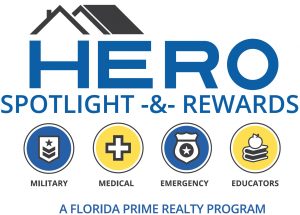 As our homes here in Southwest Florida are made stronger and safer through the diligence of our Community Heroes, Florida Prime Realty is especially committed to ensuring that our give back program is one that our heroes can benefit from. Our Hero Spotlight and Rewards Program is simply an expression of our gratitude and appreciation for the courage, compassion and professional commitment made by such service providers.
If you are a current or retired military serviceman or servicewoman, police officer, firefighter, medical personnel or educator with an intent to purchase or sell a home here in Southwest Florida, we hope that you will contact our team here at Florida Prime Realty to learn more about how you can benefit through our Hero Spotlight and Rewards Program.
For more details on the Hero Spotlight and Rewards Program offered by Florida Prime Realty, simply submit the contact form below: