Florida Prime Realty Hero Spotlight
Posted:
As part of the Florida Prime Realty Hero Spotlight & Rewards Program, we invite you to learn more about one of the heroes within our community.
Meet J.A.
Originally from Minnesota, J.A. is an Army Veteran who has made Naples home since 1968. Since retiring from the Army, J.A. also became an educator and taught Elementary Education for many years. J.A. joined the military in 1959 because he thought it was the right thing to do. His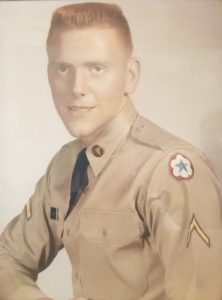 assignment was in dental prosthetics (crown and bridge). The first days of service were in the boot camp, which were filled with yelling and intimidation. J.A. recalls it being a bit scary, but everyone stuck together and motivated one another. His highest rank was E5 Sergeant and he also achieved rifle expertise for which he remains very proud.
When recalling the best and worst 'military' food he was served, he states that the food was always good unless they were on bivouac, but that it was especially good during permanent assignment because it was in a hospital. When asked about some of the people he served with and people that made a positive impact on him, he says that Chilas Nickelberry, a Drill Sergeant, was without a doubt the best soldier and best person all wrapped in one. Others of good character he mentions are Archie T. Edwards, a Dentist, and Frank Netto.
His time in the Army was one filled with lots of training. He recalls one of the most memorable of experiences occurred during a training and involved throwing grenades. The recruit next to him dropped a grenade in their foxhole. Needless to say, the entire patrol emptied out pretty quickly. 
After the service, he made use of the G.I. Bill (of Rights) and earned a degree in Elementary education. He says the Military gave him a clear focus on important things in life, and with the drive and motivation it instilled within him, he was able to obtain a college degree. 
For his service to our nation, and for contributing to the caliber and character of our community here in Naples, Florida Prime Realty salutes J.A.
In conjunction with the Florida Prime Realty Hero Spotlight  & Rewards Program, please let us know of other hometown heroes which you feel are deserving of recognition due to their service to other. Simply drop us a line by submitting the form below.
The Florida Prime Realty Hero Spotlight Program is dedicated to serving those who so diligently serve others. In addition to recognition of their contributions, eligible candidates qualify for greater convenience and affordability when buying or selling homes. Eligible customers include active or retired military, law enforcement, fire services personnel, EMS, healthcare staff and educators from area schools. For more information, contact Nikki Dimitrova of Florida Prime Realty.