Florida Prime Realty Hero Spotlight
Posted:
Meet Lindsay Kuypers-Maclarty.
Born and raised in Naples, Florida, Lindsay is a registered nurse, whose passion for helping others is transcendent in all she does.  A Naples-native, Lindsay started working for Millennium Home Health Care after graduating from Southern Technical College here in southwest Florida.  For as long as she can remember, Lindsay knew she wanted to help others and make a difference somehow in their lives.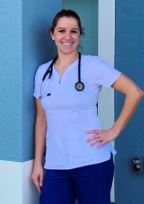 In high school, Lindsay started taking classes related to healthcare that later drew her even closer to her desire to pursue nursing as a lifelong career. Her drive to help others continued, and the medical field was a perfect suit for her passion to become realized. "It's not always a happy experience", Lindsay claims. Nursing can often be an "emotional roller-coaster", because a nurse sees people during their most difficult and often very vulnerable times. The many difficult situations nurses come across makes the job very difficult, but building a trusting relationship with patients is what it takes to work with the patient as a team to get them better. Lindsay further claims that people underestimate the importance and control patients have on their own care, and that they are just as much part of their care as the doctors and nurses.

When asked to recall her most memorable moment yet, Lindsay was quick to share a private moment she shared with a patient who had just found out of her husband's passing, amidst her own health issues. With no family near, Lindsay was the only person this patient had during one of the most difficult times in her life.  She stayed by this patient's side and held her hand, sharing a few tears as she remembered her late husband and told stories of their life together. This special moment was one that made Lindsay feel humbled and honored for being the one that was there for her patient when she didn't have anyone nearby.
Her patients are always her biggest motivator, but so are her co-workers. Lindsay sincerely believes she is fortunate to work in a field where her colleagues share the same mentality in wanting to better the lives of people who need help.  "With each other's support",  Lindsay insists,  "everyone benefits!"  That is probably the most important tool in being effective, the mutual support of those you work with.  However, being that the hospital system functions very much as a business, ratings and financials become very important for the administrators who force things on the nurses that have nothing to do with patient care. The challenge will continue, but the love and passion for her patients is far more important and greater than any obstacle.
We asked what Lindsay would have pursued had it not been for healthcare and nursing. She paused and recalled expressing interest in the fashion and interior design industry. Without a doubt, her decision to go into nursing seems to be the perfect decision she could make. Nursing to Lindsay is more than just a glimpse of the healthcare industry. She insists that nursing to her means "being proud to be able to care for people and be there when they are scared and need someone to guide them through things they don't understand. It means holding no judgment to anyone and always putting the patient first."
Lindsay recently married the love of her life, Matt, who is in the veterinary field. The urge to help others, including our furry animals, is a passion they share together.
For her service and contribution to the caliber and character of our community here in Naples, Florida Prime Realty salutes Lindsay Kupers-Maclarty!
In conjunction with the Florida Prime Realty Hero Spotlight  & Rewards Program, please let us know of other hometown heroes which you feel are deserving of recognition due to their service to other. Simply drop us a line by submitting the form below.
The Florida Prime Realty Hero Spotlight Program is dedicated to serving those who so diligently serve others. In addition to recognition of their contributions, eligible candidates qualify for greater convenience and affordability when buying or selling homes. Eligible customers include active or retired military, law enforcement, fire services personnel, EMS, healthcare staff and educators from area schools. For more information, contact Nikki Dimitrova of Florida Prime Realty.